The 500 Festival Parade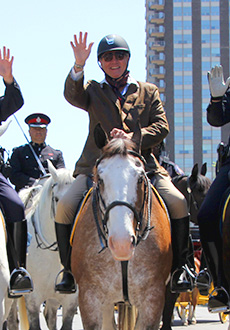 May 2015
One of the original events produced by the 500 Festival, the IPL 500 Festival Parade, has grown to be one of the signature events held in the United States each year. The parade is the only 500 Festival event that has taken place every year since our founding in 1957. The 2015 IPL 500 Festival Parade was held on May 23, the eve of the Indianapolis 500. 300,000 spectators lined the streets of Indianapolis, joined by another one million watching from their televisions around the country, to view one of the nation's premier parades.

Turner Woodard lead the Indianapolis Metropolitan Police Department (IMPD) Mounted Horse Patrol in this year's parade as the Mounted Police made their way up Meridian Street to the sounds of the cheering crowd.

The mission of the Mounted Patrol Unit is to serve and protect the community while on horseback. Mounted officers are also charged with maintaining good community relations, enforcing laws and maintaining the peace. As one of the directors of the Mounted Horse Patrol, Turner understands the importance of maintaining a strong mounted patrol unit, and was deeply honored to join the officers riding in this historic event.