26TH Raymond James Stutz Artists Open House
April 2019
Friday, April 26, 2019, 5:30 - 10:30 p.m.
Saturday April 27, 2019, 2:00 - 7:00 p.m.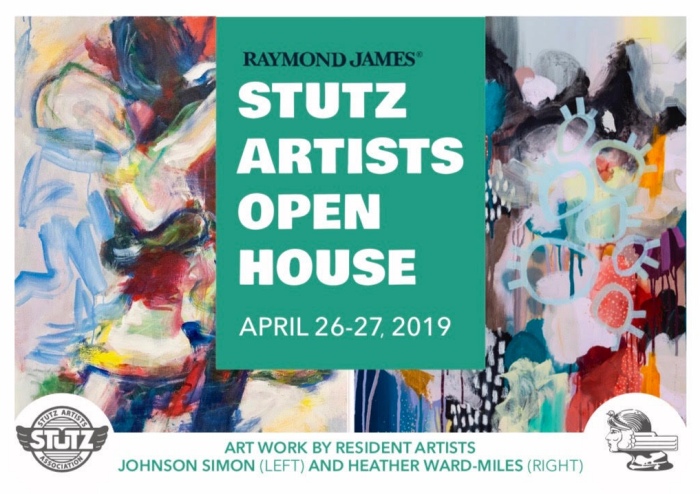 The Raymond James Stutz Artists Open House continues to illuminate the vibrant art culture and diversity of Stutz artists — and is a favorite among art lovers, families and guests. Now in its 26th year, the event attracts more than 6,000 people every year to the 400,000 square-foot former car factory.

Proceeds from the Open House support the Stutz Residency Program. This is one of the largest cumulative grants to individual artists in the state. Since its inception in 1997, more than 30 emerging artists have received one year of studio space and mentoring from professional artists at the Stutz.

Over 60 studios filled with one-of-a-kind artwork will be on display and for sale on April 26 and Saturday, April 27 at the historic Stutz Business and Arts Center, 212 W. 10th St. Scroll down to learn more about this great event.
OPEN HOUSE GENERAL INFORMATION
The two-day event on Friday and Saturday celebrates the 26th year the Stutz artists have welcomed guests to the studios where they work all year long. Artists will offer paintings, photography, furniture, sculpture, jewelry and more for purchase.

This is the perfect time to buy one-of-a-kind gifts with artwork prices ranging from $12 to $10,000.

Guests have an opportunity to see creative spaces in this historic car factory, experience the thriving Stutz art community, enjoy live music, make their own art, take a selfie in a Stutz automobile, and tour the turn-of-the-century car factory turned business and arts center. On Saturday, artists will have demonstrations and there will be special events for children.
TICKETS
Tickets are $16.00 in advance, $20.00 the week of the event. Tickets can be purchased at the Stutz Business Office (in the Stutz Building), M-F during business hours. Online ticket sales coming soon.